The Coin Laundry Association will release a new white paper outlining proper garment care and stain removal for laundry professionals on October 16.
"Garment Care and Stain Removal Basics for Laundry Owners" is part of the CLA's Gold Book Research Series of resources for members of the laundry industry. The editorial team at PlanetLaundry and the CLA have committed to releasing a new white paper in this series every quarter throughout the upcoming years to continue to add value to the businesses represented by the association.
CLA members receive this and all white papers free as a membership benefit in the member resource library or accessed through the eStore at no charge by placing the item in the "My Downloads" section of members' online portal. A downloadable PDF of this white paper also will be available for non-members in the CLA eStore at a new lower price of $39.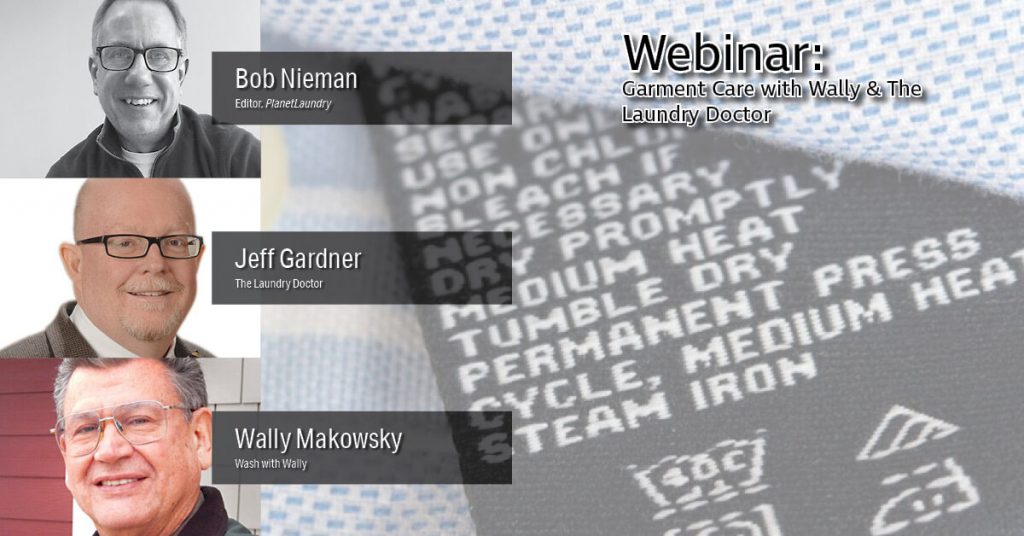 Webinar with Bob, Wally and Jeff
Additionally, the CLA will host a webinar on proper garment care featuring the expertise of two of America's favorite laundry authorities. PlanetLaundry Editor Bob Nieman will host an interview-style session with Jeff Gardner, The Laundry Doctor, and Wally Makowsky, author of the column "Wash with Wally" found in PlanetLaundry magazine.
This one-hour webinar will feature frequently asked questions about the proper care of laundered garments, including what cleansers to use (and not use), stain removal and techniques to ensure garments look, smell and feel their best. Learn from some of the best in the business, make your customers happy and keep them coming back when they realize they've found the right laundry professional for the job.
Register for this webinar
"We're excited to be creating fresh, new content for the benefit of laundry owners across the country," said CLA President and CEO Brian Wallace. "We think that other sectors of the laundry industry will find these resources valuable as well. We're especially glad that Wally, Jeff and Bob have agreed to do this webinar. It's going to be both fun and informative – a real treat!"
The white paper can be purchased in the CLA's eStore at www.coinlaundry.org/garment.