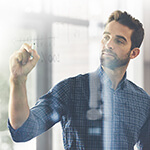 Planning & Funding Your Laundry Business
Download the newest guide that walks you through determining start-up costs, developing a business plan, and qualifying for lending from Maytag® Commercial Laundry.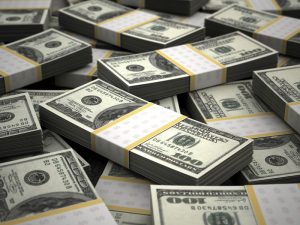 A Decade Removed from the Credit Crunch of the Great Recession, Here's What It Takes to Secure Financing in Today's Economy Growing your laundry business without outside funding can make you feel as though you're trapped in a perpetual catch-22. You need to hire...
Statewide Laundry Equipment – with locations in Miami, Orlando, Tampa, Jacksonville and Smyrna, Ga. – has added two new stops in North Carolina and Georgia to the company's series of Road Shows this October. In addition to two previously scheduled events in Florida,...
Aaxon Laundry Systems will host the Future of Laundromats Tech Expo on September 18 at the Holiday Inn Express & Suites Miami Airport East in Miami. According to the company, this event will be "an immersive, day-long experience for laundromat owners to gain...
More than 200 individuals from 18 countries recently attended the 60th Maytag Commercial Laundry Annual Meeting and Awards Recognition at the Roosevelt Hotel in New Orleans. The event included a look at the company's new multi-load washer, product insights and...
Taking a Look Back at the Industry's Trade Show and Convention Technology was center stage at this year's Clean Show in New Orleans. "Technology is beginning to rapidly disrupt the vended laundry world," noted Sharon Brinks, who owns The Laundry Station in Wichita,...
I own a self-service laundry, and one of my clients is our local high school. We wash the football team's uniforms during the season. We're located in "red dirt country," which presents its own challenges when it comes to getting those uniforms clean. However, last...
LG Electronics will be the lead investor in a Series A equity financing for Washlava, a Tampa-based company that has brought its cashless mobile technology to the laundry industry. Terms of the financing, including how much will be invested, has not been disclosed....
Evans Express Laundry Center in Evans, Colo., recently hosted a grand opening celebration – complete with wash and dry promotions, food, and giveaways. The store's customers and local business owners attended this event, with the first 50 people through the door...
American Changer Corp. has finalized an asset purchase agreement with Triad Design Group Inc., a manufacturer of self-service money changers serving a variety of industries. Triad's culture of providing high-quality products and services, as well as developing...
Caldwell & Gregory – a provider of laundry service programs to the college market headquartered in Richmond, Va. – recently announced its partnership with Equipment Marketers, based in Cherry Hill, N.J. C&G, which has served the laundry market for nearly 30...
Laundrylux recently acquired Direct Machinery Corp., based in Hicksville, N.Y., and led by CEO Ron Hirsch. "Direct Machinery has represented Milnor and Chicago Dryer commercial laundry machinery with distinction for many years, serving diverse institutional customers...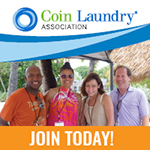 Join the Coin Laundry Assocation
Learn about the benefits of being a CLA member and becoming part of the largest trade association for the self-service laundry industry.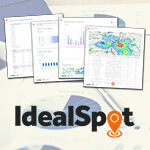 Demographic Reports by IdealSpot
The CLA has partnered with IdealSpot to present more robust demographic reports for researching laundry locations.
Click to learn more.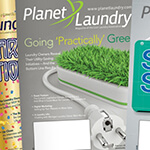 Subscribe to PlanetLaundry
Get America's #1 magazine for the self-service laundry industry delivered to your door or your email every month! Get your FREE subscription by clicking here.
America's #1 Resource for Vended Laundry News & Info
PlanetLaundry is the official publication of the Coin Laundry Association and is trusted by thousands to deliver the latest news and industry-specific topics for laundry owners and professionals.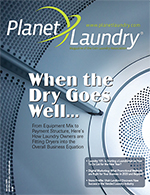 This Month's Issue
When the Dry Goes Well…: From Equipment Mix to Payment Structure, Here's How Laundry Owners are Fitting Dryers into the Overall Business Equation
Laundry 101: Is Starting a Laundromat on Your To-Do List for the New Year?
Digital Marketing: What Promotional Methods are Right for Your Business in 2020 and Beyond?
Store Profile: Utah Landlord Discovers New Success in the Vended Laundry Industry
and more…
THE LATEST ON LAUNDROMATS
Industry News
The Laundry Chute, LLC, has expanded its collegiate services in Pittsburgh and beyond for the 2019-20 school year, providing "peer-to-peer, on-demand laundry ecosystems to increase campus machine uses," according to the company. To bolster its offerings, The Laundry...
Eastern Funding hosted a capacity crowd at its most recent Laundry Improvement Workshop in Melville, N.Y. This event, which was the fifth in the series, was attended by a cross section of the laundry industry – including owners, potential investors, local distributors...
Register now to attend the following CLA Connect LIVE events planned for the next two weeks. These events are open to current and potential store owners, distributors and manufacturers: CLA Connect LIVE – Southern California September 10 in Santa Monica, Calif. "A...
Wash-Dry-Fold POS has named Sales and Marketing Director Ian Gollahon an equity partner in the company. Gollahon started with Wash-Dry-Fold POS in 2016, shortly after the company was established. "I was focused on fulfilling incoming orders, and I needed somebody to...
The Board of Directors of RICHCLEAN recently announced the promotion of Matthew Gilman to president of the company. Matthew succeeds his father, Barry Gilman, in this position. Barry held the leadership spot at the company since its inception in 1975. "Barry decided...
FROM YOUR FAVORITE INDUSTRY EXPERTS
Columns
FROM THE PAGES AND STUDIO OF PLANETLAUNDRY
Highlights
No Results Found
The page you requested could not be found. Try refining your search, or use the navigation above to locate the post.
Thank you for the continuing privilege of serving you as the chair of the Coin Laundry Association's Board of Directors. Here we are at mid-year - our financial results for the first two quarters are in... and summer is upon us. The reports are in from Minding Your...
"Let's go invent tomorrow instead of worrying about what happened yesterday." – Steve Jobs Of course, the industry's largest biennial gathering is coming to Las Vegas next month. But, you would be forgiven for mistaking the acres of new equipment, products and...
HAVE QUESTIONS? WE HAVE ANSWERS.
Contact Us