CLA COVID-19 Update
Coin Laundry Association (CLA) is closely monitoring coronavirus (COVID-19) updates from the Centers for Disease Control (CDC) and other appropriate national and local public health authorities.  CLA's top priority is the health and well-being of our members and their customers. Learn more and access resources by clicking the button below.
Top Laundry Owners Weigh In on What Goes into a Successful Site Selection ProcessGet two (non-competing) laundry owners in a room and see how quickly the conversation turns to the new, potentially blockbuster laundry markets and store sites they're both currently...
Speed Queen recently expanded the sales territory for Yankee Equipment Systems, Inc. The distributor, headquartered in Barrington, N.H., now represents Speed Queen vended laundry equipment in various counties of Pennsylvania, as well as Speed Queen on-premises laundry...
Huebsch recently named John and Ceara Templin as its Store Owners of the Quarter. A year ago, the Templins opened Laundry Lounge in Winslow, Maine. And, since then, the store has become a destination for many customers – some who travel more than an hour to use the...
Sewer Impact or Tap Fees Are a Reality in the Vended Laundry Industry – But That Doesn't Mean You Can't Fight Back As commercial real estate rents continue to rise and more markets are being characterized as "mature" (with more than a few established laundromats in...
A recent study by the U.S. Government Accountability Office found that replacing the $1 note with a $1 coin would likely result in a net loss to the government over 30 years. The GAO discovered that the government would incur a loss of about $611 million if notes were...
A tax threat for vended laundries has been heating up in Connecticut in recent months. Connecticut Governor Ned Lamont has unveiled his state budget plan, which includes an expansion of the sales tax base to include new services – including laundry services. As of...
Statewide Laundry Equipment recently wrapped up two successful investment seminars in the Atlanta area. These educational sessions featured more than 30 attendees and were held in order to present some key insights for those considering investing in and looking to...
Western State Design will host four free service seminars developed to help vended laundry operators learn best practices for optimal operation and maintenance of Dexter Laundry equipment. These training sessions will be conducted by Dexter factory representatives and...
CSC ServiceWorks, Inc. has appointed two new members to the company's Board of Directors. They are Alex Hawkinson, founder and former CEO of SmartThings, the largest consumer Internet of Things platform in the world; and Rick Graf, president and CEO of Pinnacle, one...
Western State Design, headquartered in Hayward, Calif., recently received Dexter Laundry's 2018 "#1 in Dexter Sales Worldwide" Award at the manufacturer's annual conference in Waikiki, Hawaii. It marked the 12th consecutive year that WSD has achieved this honor. The...
Whether Selecting a New Laundry Site or Keeping an Established Store Thriving, Industry Experts Reveal the Data You Need to Know The age-old adage for retail success – which most certainly includes vended laundry businesses – has long and invariably been, "Location,...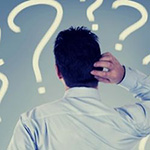 Want to Get Into the Laundry Business?
If you are a budding laundry entrepreneur, the Coin Laundry Association has the tools and resources you need to succeed. Shop now.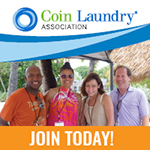 Join the Coin Laundry Assocation
Learn about the benefits of being a CLA member and becoming part of the largest trade association for the self-service laundry industry.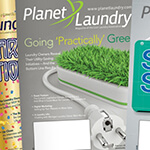 Subscribe to PlanetLaundry
Get America's #1 magazine for the self-service laundry industry delivered to your door or your email every month! Get your FREE subscription by clicking here.
America's #1 Resource for Vended Laundry News & Info
PlanetLaundry is the official publication of the Coin Laundry Association and is trusted by thousands to deliver the latest news and industry-specific topics for laundry owners and professionals.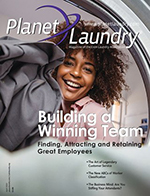 This Month's Issue
Building a Winning Team:

 

Finding, Attracting and Retaining Great Employees
The Art of Legendary Customer Service
The New ABC's of Worker Classification
The Business Mind: Are you Stifling Your Attendants?
and more…
THE LATEST ON LAUNDROMATS
Industry News
Imonex – which recently marked four decades in the self-service pay arena – unveiled its new website to showcase the company's expanding coin and token acceptor product line and to help guide laundry owners with innovative payment solutions. Visitors to imonex.com can...
WASH Multifamily Laundry Systems, headquartered in El Segundo, Calif., recently appointed two new C-suite executives to its management team. Arthur J. (AJ) Long has been named chief financial officer, and Andres de Armas has joined the company as its chief revenue...
Alliance Laundry Systems has reached an agreement to purchase the distribution assets of Commercial Equipment Company. The deal is expected to be finalized for closing in July. Headquartered in Farmers Branch, Texas, CEC has been serving laundry owners in central and...
Continental Girbau Inc. has changed its name to Girbau North America. Spearheaded by Girbau Global Laundry Solutions – the parent company of the North American subsidiary – the name change to Girbau North America provides a clearer representation of the company and...
Laundrylux recently announced its acquisition of Texas Coin and Commercial Laundry, which is based in Dallas and led by Mike and Kellie Blumberg. "Our partnership with Texas Coin and Commercial Laundry solidifies our position in the key Texas market," said Laundrylux...
FROM YOUR FAVORITE INDUSTRY EXPERTS
Columns
FROM THE PAGES AND STUDIO OF PLANETLAUNDRY
Highlights
No Results Found
The page you requested could not be found. Try refining your search, or use the navigation above to locate the post.
When putting together your self-service laundry business, the lease is one of the most important pieces of the puzzle. Here are some of the most common – and dangerous – pitfalls to avoid when hammering out your next laundry lease: • Failure to secure exculpation of...
"Is this heaven?" "It's Iowa." "Iowa? Could have sworn it was heaven…" – "Field of Dreams" (1989) While the specters of baseball players past may have confused Iowa for heaven in the movie, you wouldn't blame Hawkeye laundry owners for thinking they're living in the...
HAVE QUESTIONS? WE HAVE ANSWERS.
Contact Us