America's #1 Resource for Vended Laundry News & Info
PlanetLaundry is the official publication of the Coin Laundry Association and is trusted by thousands to deliver the latest news and industry-specific topics for laundry owners and professionals.
Eight Sure-Fire Tips for Maximizing the Impact and Effectiveness of Your Laundry's Marketing BudgetMarketing means money out of pocket, but it's essential to the revenue growth of your laundry business. So, when making a marketing investment, be sure to get the...
My water and sewer costs are going through the roof. In addition to purchasing new, more energy-efficient equipment, what are some other actions I can take to better conserve water? One of the biggest water wasters in a self-service laundry can be a malfunctioning...
Register now to attend the following CLA Connect LIVE events planned for the next two weeks. These upcoming events are open to current and potential laundry owners, as well as distributors and manufacturers. CLA Connect LIVE – North Carolina October 2 in Raleigh, N.C....
In a move to solidify its place as a complete, full-service commercial laundry distributor, PWS has hired long-time industry veteran Alfredo Duque of AMD Card Solutions. AMD specializes in the installation and service of payment systems in the vended laundry and...
Maximizing Turnover, Revenue and Profit In many urban settings, utility, real estate and rent costs are on the rise, which makes doing business there tricky. Luckily, for the vended laundry owner, there are many concrete ways to effectively combat costs, while...
Royal Quality Laundry, a full-service laundry company based in Malibu, Calif., has been awarded a $10,000 grant to help rebuild the business after last year's wildfires devastated a good portion of L.A. County. "We lost about 80 percent of our business after the...
Spynr, Inc. – a leading marketing company serving the vended laundry industry – has announced that its team will be building free websites for laundromat owners. "Everyone needs a website these days, but for some it's still hard to justify the cost," said Spynr...
The Alliance Laundry Systems Genuine Parts warehouse in Ripon, Wis., is celebrating five years with no lost-time accidents. The facility sends out 134,000 shipments per year, or 670,000 shipments over that five-year period, according to the company. "One year with no...
Register now to attend the following CLA Connect Live events planned for the next two weeks. The events are open to current and potential store owners, distributors and manufacturers. CLA Connect LIVE – Kansas September 18 in Wichita, Kan. "Ideas to Generate...
Eastern Funding, LLC, will host the next three events in its series of laundry improvement workshops in the San Francisco area, Dallas and Houston. All three workshops are free of charge and will take place in October. The schedule is as follows: October 3 510...
Aaxon Laundry Systems, based in Ft. Lauderdale, Fla., has added industry veterans Cindy Walker and Jake Hake as multi-housing account executives in the company's Tampa and Orlando offices, respectively. Walker has more than 20 years of commercial sales experience in...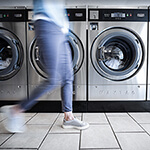 Equipment Replacement Survey Results
Click here to download this free laundromat-owner survey regarding the replacement of machines conducted by the CLA, sponsored by Maytag® Commercial Laundry.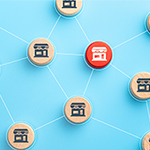 Exploring the New Franchise Model
Attend this program to hear the pros and cons of buying a franchise so you can make the best decision for getting into the business. Click here to register.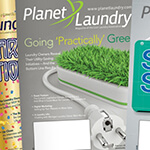 Subscribe to PlanetLaundry
Get America's #1 magazine for the self-service laundry industry delivered to your door or your email every month! Get your FREE subscription by clicking here.
CLA COVID-19 Update
The Coin Laundry Association closely monitors updates regarding the coronavirus pandeminc. Click here to learn more and access resources.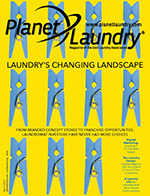 This Month's Issue
Laundry's Changing Landscape: 

From Branded Concept Stores to Franchise Opportunities, Laundromat Investors Have Never Had More Choices

Digital Marketing: 

Investing in 'Online Real Estate'

The Laundry Doctor:

Creative Ways to Get Your Brand in Front of Customers 

A Laundry Life: 

An Interview with Store Owner Frank Lambing

And more…
THE LATEST ON LAUNDROMATS
Industry News
Pictured above, from left: Kristi Williams, Oshkosh Express Laundry Center, manager; Molly Yatso-Butz, Aurora Health Care Foundation, North Region, foundation coordinator; and Liz Knoll, Oshkosh Express Laundry Center, assistant manager. Oshkosh Express Laundry...
PT. Triton Internasional has opened its first Center of Excellence in the Asia Pacific market, in collaboration with Maytag Commercial Laundry. The new showroom – in Jakarta, Indonesia – exhibits Maytag Commercial's latest innovations, and the location increases the...
Laundry pickup-and-delivery service HappyNest has expanded its operations into Florida's Palm Beach and northern Broward Counties. "LaundryMe! offers outstanding service at competitive prices, which complements our model perfectly," explained HappyNest founder John...
Three laundry distributors serving the north, central and south Texas markets recently combined their resources and expertise. AAdvantage Laundry Systems, Scott Equipment and Skyline Equipment have teamed up to better meet the needs of laundry owners and other...
Laundry pickup-and-delivery service HappyNest has added a new partner in the Wilmington, Del., market. "We have been fortunate to partner with very strong laundry operators in the mid-Atlantic region, and Leo Shao will add to that list," said HappyNest founder John...
FROM YOUR FAVORITE INDUSTRY EXPERTS
Columns
Thank you for the continuing privilege of serving you as the chair of the Coin Laundry Association's Board of Directors. Here we are at mid-year - our financial results for the first two quarters are in... and summer is upon us. The reports are in from Minding Your...
read more
No Results Found
The page you requested could not be found. Try refining your search, or use the navigation above to locate the post.
FROM THE PAGES AND STUDIO OF PLANETLAUNDRY
Highlights
HAVE QUESTIONS? WE HAVE ANSWERS.
Contact Us