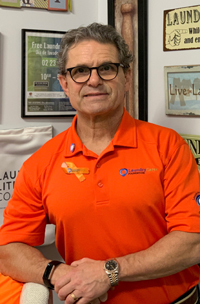 In the March issue in this very space, I wrote a column entitled, "A Decade of Transformation." I began with the following sentence: "Call me crazy, but I like to see other people happy and succeeding." I then proceeded to lay out a plan for taking a laundry business to the next level.
One week after that column first appeared, the pandemic hit the scene. In an instant, everything changed for everybody… everywhere! We have all since been scrambling to survive – and surviving is exactly what we are doing.
So, once again, let me start with… call me crazy! Despite this uncertain and challenging situation, call me an optimist!
Why exactly am I an optimist, knowing quite well that many of us are struggling in one form or another with no real easy solution in sight? At the time of this writing, we were just beginning to see signs that our economy was opening – albeit in stages, which are vague at best.
During the last two months, I've had conversations with many laundry owners, as well as with your CLA leadership, about what the future might look like. CLA President and CEO Brian Wallace, during one of his regular video updates to the industry, discussed potential silver linings that have come to light, and I would like to restate them here, just in case you missed it.
Almost at the onset of this pandemic, the CLA and a few of its members engaged a lobbyist in Washington, D.C. to have laundromats deemed "essential services." That effort paid off, as laundries were permitted to remain open, with some restrictions. Plus, this new label brought immediate attention and awareness of the laundromat industry to the general public. In fact, many laundromats have appeared on local and national news during this crisis, including a segment on "Good Morning America," featuring a clip of our own Brian Wallace!
How could there be optimism amidst this shroud of despair? Here are some questions to ponder. The answers may be part of the silver lining for laundromats as the pandemic recedes:
Will there be a greater demand for laundry services? Will clothes and bed linens be washed more frequently?
Will the already-existing trend to larger washer/dryer capacities, contactless payment systems and remote management software be accelerated in this new climate?
The wash-dry-fold component of the business was steadily growing and, despite the obvious setback, the future is promising. Remember, laundries are equipped with industrial washers and dryers, and this equipment simply cleans clothes better than home-style machines. Are you advertising that?
Laundries that offer pickup and delivery services have flourished. Will that trend will continue?
Will there be greater renter-occupied housing, given the economic decline?
Will business closures in other industries create opportunities to build new, state-of-the-art laundries with affordable rents?
Will there be opportunities to expand existing laundries that have vacancies next door?
With unemployment at high levels, is there an opportunity to hire more qualified workers to strengthen your team?
Lastly – and my personal favorite – going forward, will laundromat customers ever again be willing to walk into a dirty, disgusting ZombieMat with dilapidated equipment? If you're an opportunist, be on the lookout, because opportunities abound.
What can you do now? For certain, now more than ever the adoption of best practices is critical, not just a recommendation.
If there is one thing we can glean from this pandemic it's that cleanliness and sanitization are essential. And the attention paid to them by everyone is perhaps the brightest silver lining to emerge.
In addition, customer service must be elevated to best-in-class – no different than any other retail business. And contactless payment options may become the norm. By now, we've all noticed that the word "contactless" has become nearly as ubiquitous as Google.
In these times, it's important to remember that it's not what happens to us that matters – it's how we respond to what happens to us that truly matters.
How will you respond? Simply be better than before!