Liz and Nick Merrill
Laundry Lounge Coronado
Coronado Island, Calif.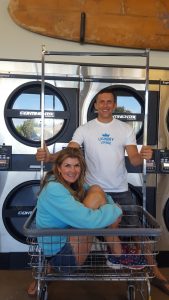 Before Getting into the Laundry Business…
Liz and Nick had previously established Sweat Equity Gym, a fitness center based in Bellevue, Wash. In fact, the couple's vended laundry in Coronado is located adjacent to their newly opened Sweat Equity Gym location on the island.
Store Opening
June 2018
Business Hours
Monday through Friday: 5:00 a.m. to 9:00 p.m.; weekends: 8:00 a.m. to 8:00 p.m.
Staff
Five part-time attendants
Total Square Footage
1,200 square feet
Parking Availability
Laundry Lounge Coronado has six designated parking spaces, as well as ample on-street parking.
Lease or Own?
The Merrills have a 15-year lease.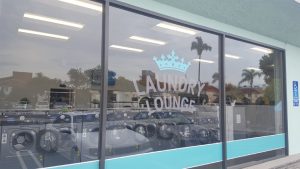 The Building
The facility had formerly been a laundromat. However, over a six-month period, Liz and Nick completely remodeled the existing store, including a total upgrade of the plumbing.
Cost
$400,000
Turns Per Day
Four to five
Marketplace Demographics
Coronado Island, a resort town located a few miles off of the San Diego coast, is home to some 24,000 residents, a U.S. Naval base and scores of vacationers from around the world.
Competition
There are no other self-service laundries on the island.
Payment Options
Credit and debit cards, as well as loyalty cards
Washers and Dryers
10 Continental 20-pound frontloaders, $3.95
3 Continental 40-pound frontloaders, $5.95
3 Continental 60-pound frontloaders, $7.95
8 Continental 30-pound stack dryers, 25 cents for eight minutes
2 Continental 75-pound dryers, 50 cents for eight minutes
Water Heating System
Hamilton Engineering water heating system
Card System
CCI's FasCard card system
Laundry Carts
6 R&B Wire Products laundry carts
Folding Tables
3 customized folding tables, including one that is a "retired" surfboard.
Flooring
Concrete flooring
Lighting
Recessed lighting
Televisions
1 40-inch television
Additional Amenity
Sweat Equity Gym is located next to the laundromat.
Wash-Dry-Fold Service
$1.59 to $2.49 per pound; $30 minimum for delivery, $10 minimum for drop-off orders
Commercial Business
Laundry Lounge Coronado currently processes the bedding and linens for a few small hotels and bed and breakfast establishments.
Finance Company
Eastern Funding, New York, N.Y., (877) 819-1764
Distributor
Continental Girbau West, Santa Fe Springs, Calif., (866) 950-2449