Clean 2019 Opens with Packed Session Focused on the Initiatives of the LaundryCares Foundation
Coin Laundry Association President and CEO Brian Wallace welcomed more than 150 attendees to the organization's first educational seminar of Clean 2019 at the Ernest N. Morial Convention Center in New Orleans. Dubbed "Laundries Connecting Communities," this session focused on the initiatives of the CLA's LaundryCares Foundation.
Wallace challenged those in attendance to grow their laundry businesses by leveraging community engagement with the help of LaundryCares.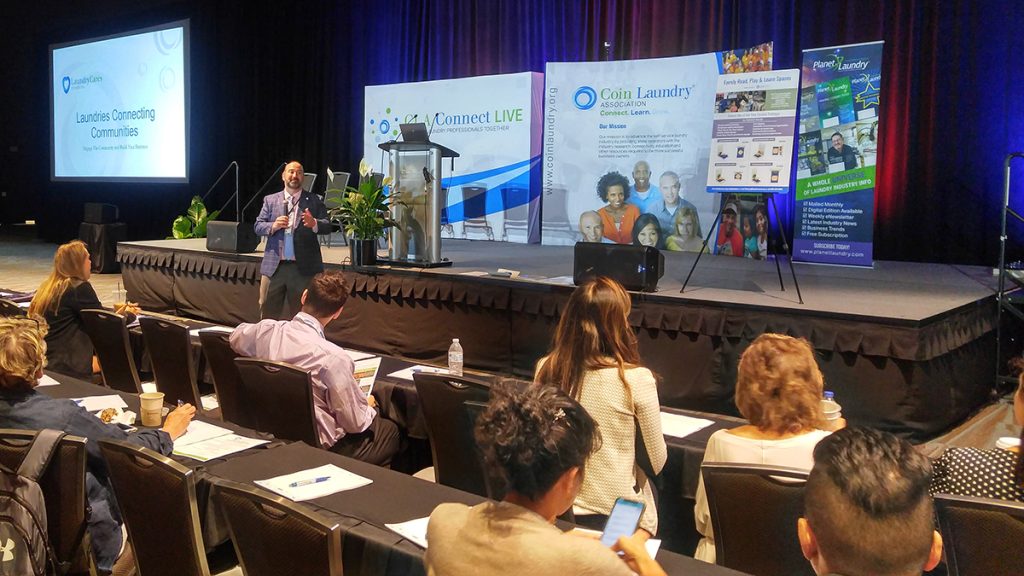 "Corporate social responsibility is king," he said. "Community engagement is new to us, but not to the rest of the business world. The biggest brands aren't talking about their products, they're talking about their missions, because that resonates with customers."
Wallace explained the three key initiatives to "living the mission" of the CLA's charitable foundation: disaster relief, free laundry days and laundry literacy activities.
Laundry Owner Panel Discussion
Laundry owners who exemplified each of these initiatives then discussed their real-life experiences with giving back to their respective communities.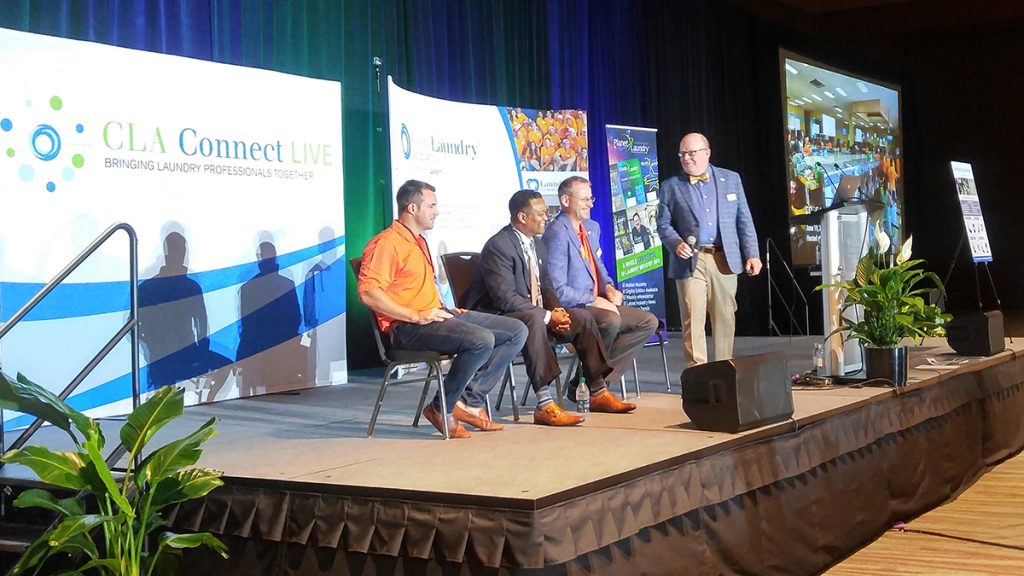 First, multi-store owner Luke Williford from North Carolina shared the actions that he and his family took when Hurricane Florence displaced many of their customers and staff members alike.
Working with LaundryCares, the Willifords held a free laundry event in Fayetteville to support those impacted by the storm, eventually processing more than 20,000 pounds of free laundry.
"It was a big community hug," Luke explained. "You can be engaged during a disaster. It's a great opportunity to shine, and whatever you give to your community will come back tenfold. Disaster relief is a great pillar of LaundryCares. Stay engaged and shine bright during times of need."
Next, Philadelphia store owner Brian Holland called free laundry days and the work of LaundryCares "an industry reboot," explaining that "something magic happens" during free laundry days at his stores.
"It's not about laundry or burgers or music," Holland said. "Think about your customers. Those customers see the disparity between your lifestyle and theirs. But free laundry days bridge the gap, and the divide shrinks. Your customers see that you care, and that's when great things happen. In the end, you will move a community. When they see that you truly care, they will wrap around you."
Multi-store owner Daryl Johnson, with laundries in Iowa and Minnesota, discussed his experience with providing reading and literacy spaces at his laundromats.
He explained that the literacy light bulb went on for him upon hearing a statistic that there was just one book for every 300 children in one of his marketplaces.
"That rocked my world," Johnson noted. "Previously, I had no concept of the book desert and the lack of learning materials in the community."
He immediately installed some very basic "wash and learn" centers in some of his laundries with amazing results.
"The kids would flock to those areas," he said. "They were engaged and their faces lit up. They would take books home and bring them back so that other families could take advantage of them.
"By adding a literacy element to your laundry, you will be changed and you will change your community in ways you can't imagine. And LaundryCares will help you."
Research on Laundry Literacy
The one-hour session also featured research updates from Jane Park Woo of Too Small to Fail, which is a partner of LaundryCares in its mission to bring literacy-rich spaces to laundromats, as well as Dr. Susan Neuman of New York University.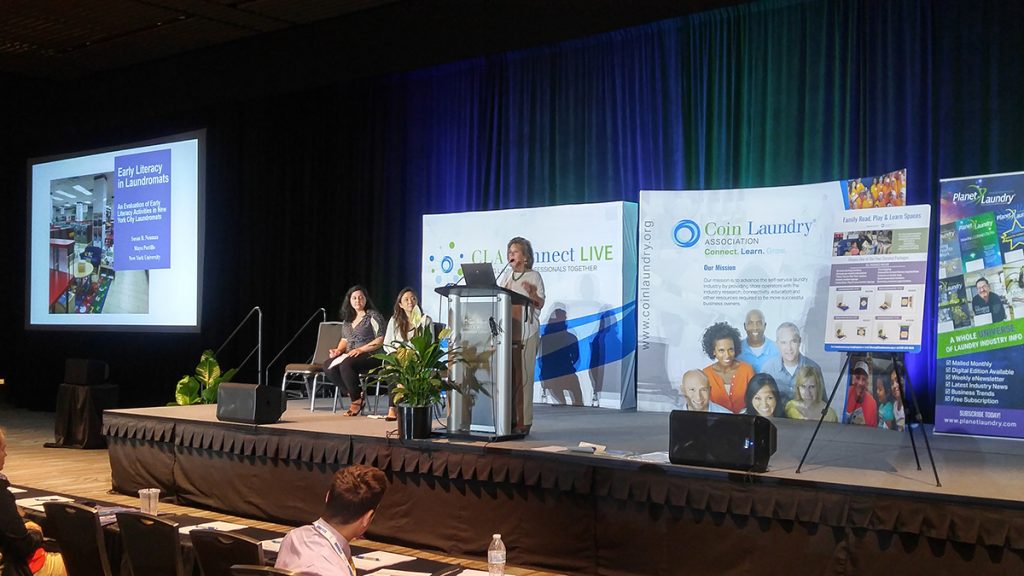 Neuman outlined the highlights of her groundbreaking study in New York City, which resulted in 30 times more literacy-related activities in laundromats that offered books and learning materials to the children of their customers.
At the outset of this first educational session of Clean 2019, Wallace stated: "We want to fundamentally and forever change the image of our business."
With its three key initiatives of free laundry, disaster relief and early childhood literacy, the LaundryCares Foundation seems well on its way to doing just that.
To support the LaundryCares Foundation, click the button below: