An Interview with the American Water Works Association's Director of Communications Greg Kail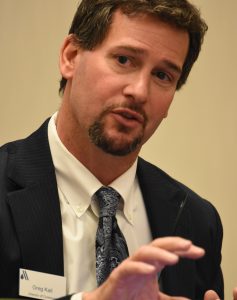 Greg Kail is the director of communications for the American Water Works Association, where he oversees internal and public communications, public affairs, media relations and a variety of other functions.
He joined the AWWA in 2003, after seven years as communications director and spokesperson for the Archdiocese of Denver. He also has worked within the news media in a variety of editorial roles, serving as editor for the Vail Daily newspaper in the mid-1990s and as a reporter, contributor and columnist for a number of other newspapers and magazines.
Mr. Kail holds a master's degree in digital media studies from the University of Denver and a bachelor's degree in communications, journalism and the performing arts from Marquette University in Milwaukee, Wis.
What is the history and overall mission of the AWWA?
The AWWA was founded in 1881 to provide a forum in which water professionals could share knowledge and practices that would help communities provide safe water to their citizens. Our mission today is to provide solutions to effectively manage water, the world's most important resource.
What are the current trends you're noticing within the water industry?
We identify trends each year through our annual State of the Water Industry Report. There will be a new report coming out in the spring of 2017, but I'd suspect you'd see many of the trends from 2016 continuing.
Top concerns, in order, were renewal and replacement of aging water and wastewater infrastructure, financing for capital improvements, public understanding of the value of water systems and services, long-term water supply availability, and public understanding of the value of water resources. About one-third of utility respondents said they were struggling to cover the full cost of the service they provide through customer rates and fees.
What are some of the hot-button issues that laundromat owners should be aware of?
I think the hot-button issue of 2016 was lead in water. It wasn't reflected strongly in our 2016 State of the Water Industry report because responses came in before the events of Flint, Mich., dominated national headlines. It won't have a direct impact on most laundromat owners, because the vast majority of businesses are not served by lead service lines.
However, communities that still have lead service lines connecting homes and businesses to the water system will likely be accelerating plans to get those lines replaced. We estimate removing lead lines nationwide would cost at least $30 billion, with costs being shared among utilities, customers, government and other partners. In some communities, that could impact the price of water over time, but it's really too early to say with any certainty.
Is there any pending legislation or new government regulations that may impact water, its use or how it's delivered to coin laundries and other small-business customers?
I don't think there is anything in the offing specifically aimed at those businesses. However, later this spring, we may see legislation introduced to help stimulate reinvestment in the nation's drinking water and wastewater infrastructure. That would affect the reliability and quality of water services to all industries. We will be advocating strong funding for the Water Infrastructure Finance and Innovation Act and the state revolving loan fund programs, which lower the cost of financing projects and improve quality of water service for all businesses.
In general, what lies ahead for the nation's water supply? What's the future of water and what can laundry owners expect?
Water sources are stressed by population growth, climate change, land-use changes and pollution. Water supply challenges vary dramatically across the United States, though it's important for all communities to be prepared for the possibility of drought and the inevitability of population shifts and growth.
What are the biggest factors impacting water supply in 2017?
This, of course, varies by community, and there are many, many factors. If I had to paint with a broad brush, I'd say climate, agriculture, population trends, technologies that allow water to be used and reused efficiently, pollution of water sources, introduction of water-efficient fixtures, consumer conservation ethic, and pricing that encourages efficient water use. So, again, there are many, many factors.
Is drought a factor?
The good news is that drought conditions nationwide are easing; so near-term supply concerns will get something of a reprieve. The historic drought in California appears to be ending. The National Weather Center suggests the biggest areas of concern are the Mississippi Valley and Florida, where dry conditions are likely to persist.
Where do things currently stand with the state of our nation's aging infrastructure? How is that affecting water?
Water mains put in the ground by previous generations are approaching the end of their useful lives, and they need to be replaced. Deferring maintenance is typically not a good option — the longer a community ignores the issue, the more expensive the fix.
What's the future of water rates for laundromats? And what controls those rates?
This, of course, varies by community. Utilities strive to recover the cost of service in their rates, and the cost of service may vary between different categories of customers. Rates often include both a fixed charge and a consumption charge, and the consumption charges are sometimes higher, based on how much water the customer uses. Rates are typically reviewed by a board of independent commissioners to protect the customers.
What does the AWWA see with regard to wastewater and sewer costs?
Our Water and Wastewater Rates survey shows both water and wastewater rates rising faster than the consumer price index. This likely reflects higher costs of maintaining infrastructure, installing treatment to meet new regulations, and investing in technologies to assure adequate water throughout the entire urban water cycle. It's interesting to note that most utilities are actually "selling" less water in recent years, due to more efficient appliances and fixtures, periodic water restrictions and pricing structures that encourage conservation.
Of course, because customers typically pay more for water the more they use, lower water use can impact revenue, and that revenue is critical to meet fixed costs. Some utilities are addressing this by shifting to a model that includes higher fixed costs.
Are there certain areas of the country that are in more dire situations as far as water supply and rates than others?
Certainly water-stressed communities are more likely to have higher rates, but you can see high rates in water-rich regions as well. For example, a large Midwestern city with massive infrastructure needs and a population that has moved outside the service area may have fewer customers to absorb higher expenses. A small, rural community with plenty of water available may have many miles of pipe and a small number of customers.
How can laundry owners reduce water consumption and save money?
This question is a little out of my scope. However, it would be a good idea to visit the U.S. EPA's WaterSense website (epa.gov/watersense) to get some ideas about how various businesses can save water, energy and operating costs. All of those savings are going to help the bottom line. Also, I'd suggest getting in contact with your local utility to gather additional insights.
What are some of the bright spots with regard to water?
Our preliminary findings from the 2017 State of the Water Industry Report suggest that only 10 percent of utility respondents think they will be challenged to meet their long-term supply needs. Utilities also are increasingly incorporating reused water in their communities, exploring desalination of both ocean water and inland brackish water, and auditing their systems to reduce leaks and improve efficiencies.
What would you most like the laundry owners reading this interview to take away, with regard to the future of water in the United States?
I'd say that, regardless of water supply issues, our nation has a steep challenge ahead in repairing and expanding its water infrastructure. The AWWA estimates that we'll collectively need to invest more than $1 trillion over the next 25 years, and for the most part, that money will come from all of us who use water. In most places, the pipes in the ground were put there by previous generations, and they simply don't last forever.