An Interview with American Marketing & Publishing Co-Founder Joline Staeheli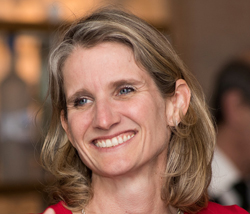 Joline Staeheli is a co-founder of American Marketing & Publishing and has spent two decades in a range of operations, technology and marketing roles. Today, Joline leads AMP's client education and marketing initiatives. She greatly enjoys the challenge of keeping AMP and its clients ahead of the curve in the ever-changing, always-evolving local digital marketing environment. Ms. Staeheli is a regular industry presenter on the topic of effective digital marketing strategy.
She recently discussed her company's new partnership with the Coin Laundry Association, as well as how AMP can help today's vended laundry owners better promote their businesses.
Tell me about American Marketing & Publishing and the services it offers.
We are a 22-year-old, family-owned digital agency with a focus on helping independent, owner-operated businesses evolve and grow in a constantly changing marketing environment. We know a lot about how important that evolution is, because we started in this industry in the late 1990s as a local telephone directory publisher. We transitioned over the intervening years to become a national leader in online visibility assistance, listings presence management, website development and reputation management.
We are the largest Google Street View Trusted Agency in North America, and recently we were distinguished by Google with "Google My Business Featured Partner" status. This recognition identifies a handful of tech platforms and digital advertising agencies that provide services to the local merchant community with a high level of quality and client service.
Our mission is to make marketing simple, effective and inexpensive for America's independent business owners.
Explain the program you're currently offering CLA members.
We offer two digital marketing programs. The first is OPTIMA, AMP's local visibility management and reputation management program. Laundry owners can choose from one of three OPTIMA package levels to win clients at the critical moment of truth, when online search results are returned. The focus of OPTIMA is to develop highly visible and attractive listings in search results, positive consumer reviews and star ratings, and a professional, attractive local website that is viewer-ready on any mobile device or other computer.
Our second program is Google Street View Trusted virtual tours. This service creates an official Google virtual tour of the interior of a laundry on Google Search and Google Maps using the same technology that powers the street level Google Street view exterior imagery that consumers are familiar with. The tours are hosted by Google, increasing consumer visibility and engagement, improving search results rank, and helping a laundry stand out among competitors as attractive and comfortable to shoppers.
What are the key advantages of this program for laundromat owners?
The OPTIMA Program has three components – visibility, reputation management and a mobile-optimized website. OPTIMA allows laundry owners to highlight their most attractive services and amenities across major searches, manage and grow their public reviews, and promote themselves with a modern and professional website.
Most of our clients are working long hours and don't want to have to stay on top of the detailed technical tasks required to keep their digital marketing fresh and effective. One of the advantages of our program is that it is provided on a "do-it-for-you" basis. When you join the program, you are paired with an account manager to help answer questions, fix problems, and keep your listings content and website information current. Professionally managed listings rank higher, and a managed reputation is always a more positive one.
The Google Street View Trusted interior virtual tour attaches to the Google listing profile page we typically establish or update as part of our OPTIMA services, and provides an immersive and attractive invitation for potential customers to come right inside your business and virtually experience the ambiance and décor of your location. Consumer choice and selection today is largely driven by imagery. We live in the most photo-conscious consumer economy in history. When potential customers look at search results, laundry owners with a Google Street View Trusted tour will have put their best foot forward with high-quality imagery showing a clean, safe, attractive and comfortable setting.
Why is digital marketing so important for today's small-business owners, such as laundromat operators?
The way consumers search for nearby businesses has changed radically in the last 10 years. Consider some of these statistics:
96 percent of Americans age 18 to 70 now own an internet-connected mobile phone.
84 percent of consumers trust online reviews as much as a personal referral.
Business listings at Google that include attractive photos and a virtual tour are twice as likely to lead to a call, click or booking.
Today's consumer is more well-informed, less patient, more demanding and less loyal than in previous periods. On top of that we're becoming a more transitory nation, with about 14 percent of the U.S. population moving at least once per year. All of these changes make having good online visibility, positive online reviews and attractive imagery very important.
In addition to attracting regular weekly customers, intelligent digital marketing presents a great opportunity for savvy laundry owners to promote their most profitable services – such as pickup and drop-off services and seasonal cleaning of bulky items where large-capacity machines are required. Also, don't forget about those emergency situations, when customers need laundry services while their home machines are out of service. Because most customers are local, many laundry owners mistakenly think they don't need to focus on their online presence. However, the reality is that a mobile online search is the most likely way local customers will find them, form an immediate impression and make a decision to visit. Effective digital marketing represents a great, untapped opportunity for most laundry owners.
The online ecosystem is ever-changing and – without careful, consistent attention to online presence management – multiple problems can occur. Too frequently, business owners are unaware that old, incorrect or inconsistent information persists on multiple search engines with a damaging effect on their page rank and overall visibility. We solve many of the most common problems that impact online visibility and page rank:
Poor visibility under your business category
Outdated, poor quality or unauthentic photos
Incorrect hours or services
Wrong phone number, address or map location
Poor ranking against your local competitors
Unfair reviews, no reviews or few reviews
No time or personnel to keep your business listings and profiles "fresh" with relevant new updates, pictures and seasonal content
Outdated website that does not render well on mobile phones, tablets or new browsers
Google or Apple Maps pointing customers to an incorrect location
At the very least, what should today's laundry owners be doing to market and promote their businesses?
The first step in any effective marketing program is to be found where your potential customers are looking. We know that mobile search is the most likely way for potential customers to connect with a business. Very simply, an online listing presence management program and a mobile viewable website are essential for any serious business. Your business listings must be accurate, verified, consistent and fresh across multiple search engines – and your website needs to be easily readable on the screen of everyone's cell phone, if you want to compete for customers.
What are some of the hot trends and/or latest news with regard to digital marketing?
A Google Street View Trusted virtual tour definitely increases a business' online buzz and has a sometimes dramatic search rank results, because most businesses still have not taken advantage of this opportunity. When a business is seeking to get traction online against a close local competitor, we always recommend a Google virtual tour as it can be a game-changer to elevate one business listing over another.
Google Posts – which are a short messages, announcements or invitations to promote seasonal sales or events added to a Google My Business page – are still relatively new and are becoming extremely popular with our customers to keep their online profile fresh and to convey important information to a wide audience in a timely way.
What can laundry owners learn from those in other industries and how they utilize digital marketing for their businesses?
Many small, local reputable business owners believe that they can rely on word-of-mouth advertising or their prominent signage to do their marketing for them. We often hear the objection of "I have enough business already, so I don't need to advertise." Or, "I already have a great local reputation – why would I need help managing it?"
Although most businesses don't have the happy problem of too much business, every owner can use more of the "right" kind of business. We have found that by promoting the more high-margin services through online profiles and websites, businesses can create stronger, more profitable relationships with their existing customers and, of course, develop new ones as well.
We've received a huge number of positive stories related to businesses promoting higher margin services on their websites and monetizing them immediately through our lead capture technology. This ability, available on all of our websites, permits customers to send you a message right through your website 24/7, making your business available when customers are in the process of buying or scheduling. For laundry owners, inquiries or scheduling related to a pickup-and-delivery service are the most frequent use of this technology.
What are the most common mistakes you see small-business owners make with regard to marketing their businesses?
Customer reviews are an often-neglected area of a small-business owner's marketing. But reviews have become so important to consumers – either driving off customers or pulling them in – that we see this as a common mistake.
A simple, yet often-neglected marketing activity is simply reading and replying to your online reviews. Responding to a poor or mean-spirited review can be emotionally challenging, and finding the time to sign in to respond professionally in a timely way, even to a positive review, is often hard.
But consistent and courteous review responses increase customer engagement by showing that you are an involved and thoughtful owner. And, as a side benefit, these responses add fresh information to your online profile, which increases a business' SEO.
What's the one piece of advice or nugget of information you'd like laundry owners to take away from this interview?
We'd like laundry owners to understand that they don't need to spend a small fortune to develop and maintain a great local online presence, and they don't need to do this work themselves.
In fact, trying the do-it-yourself approach to managing and maintaining their online presence to save money is often the most expensive mistake owners make. The online ecosystem is not a set-it-and-forget-it marketing purchase, like buying signage or purchasing an ad in the Yellow Pages. Online search engines require consistent and constant updating to keep your listings competitive.