Kevin Adkins
Dirty Laundry Express
Irvington, N.J.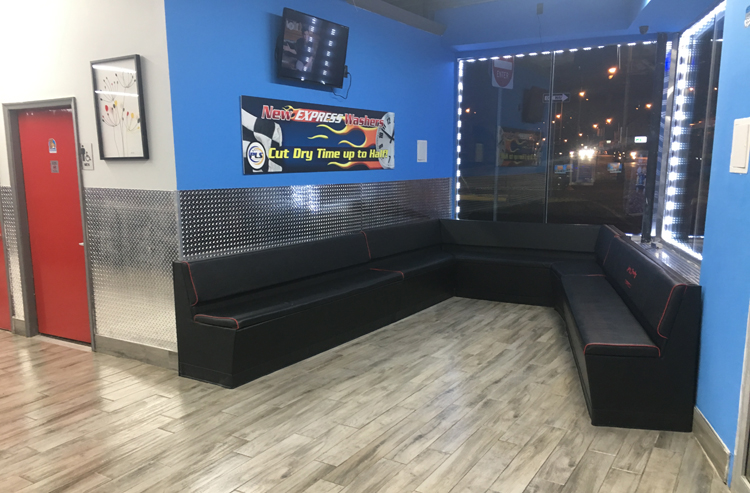 Before Getting into the Laundry Business…
Kevin used to work for the U.S. Postal Service.
Store Opening
December 12, 2016
Business Hours
7:00 a.m. to 11:00 p.m. – Monday through Friday
6:00 a.m. to 11:00 p.m. – Saturday and Sunday
Staff
Two full-time attendant and three part-time staffers
Total Square Footage
8,500 square feet
Parking Availability
The store has 23 parking spaces.
Lease or Own?
Kevin owns the building and property.
The Building
The facility was a former automobile body shop and car dealership.
The Construction Process
The entire retrofit process took two years – 15 months for planning, ground testing, financing, etc., and another nine months of actually construction work.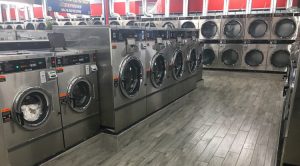 The Cost, including Laundry Equipment
$2.3 million
Turns per Day
3
Utility Costs
Utility costs represent 14 percent of the business' gross sales.
Marketplace Demographics
Dirty Laundry Express is located in a densely populated section of Irvington, with a widely mixed population, according to Kevin.
Competition
There are two other competing self-service laundry businesses within Dirty Laundry's marketplace.
Payments Options
Credit/debit cards and loyalty cards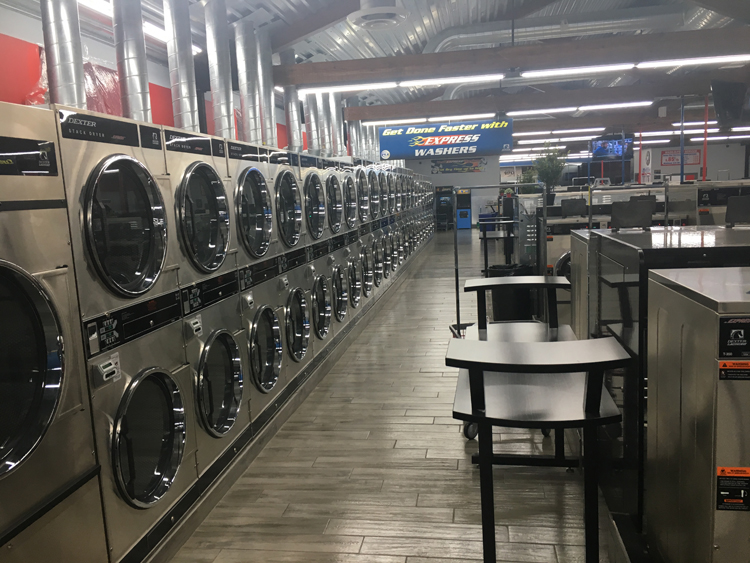 Washers and Dryers
26 Dexter 20-pound frontloaders, $2.50
16 Dexter 30-pound frontloaders, $3.50
20 Dexter 40-pound frontloaders, $4.75
14 Dexter 60-pound frontloaders, $6.25
4 Dexter 90-pound frontloaders, $9.75
56 Dexter 30-pound stack dryers, 25 cents for eight minutes
32 Dexter 50-pound stack dryers, 50 cents for 12 minutes
6 Dexter 80-pound dryers, 75 cents for 14 minutes
Water Heating System
NATCO Fire Coil 85 water heating system
Card System
Card Concepts Inc. card system
Bill Changers
1 American Changer bill-to-bill changer
Laundry Carts
25 R&B Wire Products laundry carts
Folding Tables
20 High Mark Manufacturing folding tables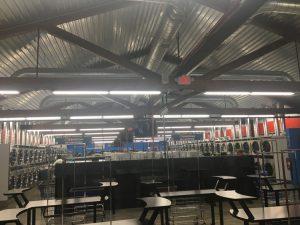 Flooring
Porcelain tile flooring
Lighting
LED lighting
Soap Vending
1 Vend-Rite Manufacturing Vision Soap vending machine
Beverage Vending
1 BevMax 45 beverage vending machine, $1.50 – $2.50
Snack Vending
1 AMS snack vending machine, 50 cents – $1.50
1 AMS ice cream vending machine, $1.50 – $2.50
Arcade-Style Games
1 Pac-Man video game
1 racecar driving video game
1 pinball machine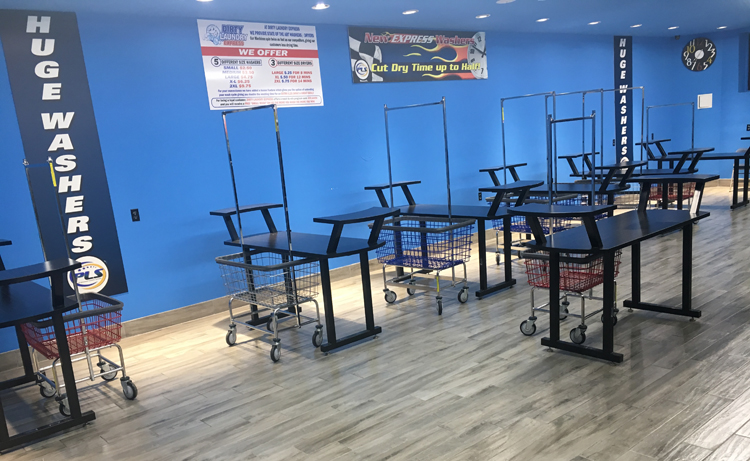 Televisions
1 70-inch television
1 65-inch television
6 48-inch television
2 40-inch televisions
Additional Amenities•
Free Wi-Fi
Wash-Dry-Fold Service
85 cents per pound; $10 minimum
Distributor
Professional Laundry Systems
Deer Park, N.Y.
(631) 242-0020