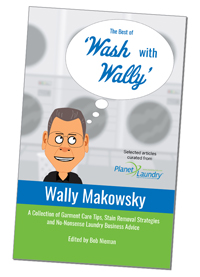 The Coin Laundry Association has released "The Best of Wash with Wally," a printed collection of many of the highlights of PlanetLaundry magazine's popular and long-running garment care column, "Wash with Wally.
The monthly Q&A column is written by laundromat business veteran Wally Makowsky, a well-respected and influential industry leader who spends a great deal of his time these days assisting and advising other laundry operators and potential investors on all aspects of vended laundry operations – from site selection and marketing to stain removal and wash-dry-fold procedures.
For more than 20 years, Makowsky's column has positively influenced the business practices of PlanetLaundry readers across the country – and now all of that industry knowledge is packed into one book. This must-have collection of garment care tips, stain removal strategies and non-nonsense laundry business advice will prove to be an invaluable guide to laundry business professionals over and over for many years to come.
For details about obtaining a copy of "The Best of Wash with Wally," visit www.coinlaundry.org.