An Interview with Mike Kelly of Atmosphere TV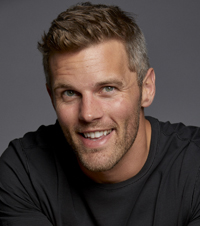 Mike Kelly began his sales and marketing career in the wine and spirits industry, having built and executed marketing programs for some of the largest spirits brands in the world.
"When I came across the opportunity to become one of the first five employees at what was then known as CHIVE TV, I was thrilled to be a part of building something innovative and – even more important for me – challenging," Kelly said. "At the time, we had only a handful of businesses using our service."
Fast-forward to 2021, Atmosphere TV is up to 27 channels streaming daily within more than 10,000 businesses – and with such big-name partners as Red Bull, the X Games and America's Funniest Home Videos.
In addition, Atmosphere TV is the newest benefit added to CLA Business Solutions, a suite of programs and services developed to help your laundry business become more successful.
Tell me about Atmosphere TV and the services it offers.
We built Atmosphere TV on a simple idea – what are people watching in bars when they're not watching live sports? Before we launched, you'd typically find SportsCenter reruns, political talking heads, soap operas or depressing news stations on the televisions at your local pub.
We knew there had to be a better solution, so we built our first and only channel at the time, CHIVE TV. Quickly, we found our way into thousands of bars and restaurants, and began fielding requests from hundreds of other types of businesses, including laundromats. We began building some business-specific channels aimed at providing a better TV solution for business use.
What types of businesses are currently using your program?
You can find Atmosphere in bars, restaurants, gyms, hotels, casinos, oil-change facilities, offices, cruise ships, bowling centers, airports and, of course, laundromats. The list of possibilities is endless.
If you've ever driven into California from Mexico, you know how long the wait can be. Look up and you'll see our flagship channel, CHIVE TV, running there, too.
What types of content do you offer, and what audiences are targeted?
All of our channels can be seen live at Atmosphere.tv/channels, but some of my favorites are HappyTV, which is made up of kittens, puppies, babies and all cutesy, happy-type things. ShugazingTV is comprised of the weirdest, mind-melting, yet oddly satisfying videos on the planet. BeachBumTV highlights all things surfing, wakeboarding, water skiing, kiteboarding and much more.
Some of our partner channels include RedBullTV, XGamesTV and AFV TV (America's Funniest Home Videos). Recently, one of our new partner channels, which is called So Yummy, has been my favorite. This channel is made up of amazing, mouth-watering and creative food concoctions shot in first-person view.
Please explain the specific program you're currently offering CLA members.
We see a tremendous opportunity to provide great value to the community of laundromat owners and the CLA on both our Basic Free and Pro Services.
For CLA members, we're waiving the $150 one-time setup fee. Our Basic service, including the device we supply, is free. All we require is that the service is used a minimum of 40 hours per month. There are no long-term contracts to sign.
Our Pro service can be of great benefit to CLA members. This allows store owners to upload their own specials, features, events, promotions, images, videos and so on directly to their TV screens at one or several of their locations with just a few clicks. This is a tremendous opportunity to not only save on expensive print marketing material, but also to upsell customers, promote new services or even use the digital signage server as a revenue generator – where laundry owners can sell advertising to other local businesses that wish to promote themselves within you're the laundromat. We attract the eyes, you feed them the messaging. This service is being offered for $50 a month with no long-term contract for CLA members.
What are the key advantages of this entertainment package for laundromat owners?
Owners have used our service in several ways. Of course, our Pro digital signage is an affordable and innovative way to engage an already captive audience in your laundromat. On our Basic level, using our free service grants store owners the opportunity to completely cut cable if they choose. We also can be used to supplement cable – so, if you'd like to have cable running on a TV or two and Atmosphere channels running on a TV or two, that option definitely works as well. We simply create better experiences, better reviews and a better overall environment in your laundromat.
Beyond entertainment, there's a promotional element to the Atmosphere TV package as well. Can you please explain how that works?
Our Atmosphere Pro Digital Signage is a web-based tool that enables laundry owners to send messaging to one or several stores with just a few clicks. We're masters at attracting your customers' eyes and creating a captive audience, granting you the ability to promote, upsell, announce or advertise in-house. There is no limit to how many promotions you can include in your queue. Promotions can be uploaded in less than two minutes and can be done from any computer at any time – there's no need to be at your laundromat to get your promotions onto your screens.
What are some of the hot trends and/or latest news with regard to your industry? What's down the road that laundry owners should know about and take advantage of?
It's no secret that streaming TV and cable cutting is becoming the new normal, both at home and in business settings. Cable cutting in business is a relatively new concept, and we're proud to be at the forefront. Our audio-optional content allows your customers to converse with one another or listen to music. Because we are audio-optional, we can appeal to people who speak any language.
We remain the first and only TV service designed specifically for business use and just adding seven new channels at the end of 2020.
What are the best practices for laundromat owners, with regard to setting up their televisions and their TV/promotion packages for maximum impact?
We recommend starting with one device to make sure you and your customers like the content and the service. The installation is extremely simple. All that's needed is an HDMI port on your TV, an outlet or power source, and a stable Wi-Fi connection. If you'd like to split the signal to a second TV, I recommend using a splitter, which are very affordable on Amazon. If you'd like a second or third device for your laundromat, we're able to provide that for a one-time fee as well.
Although every laundromat is laid out differently, I've found that many store owners have had success using our service in the main waiting area or the designated kids' section. But, of course, the final decision is completely up to the owner.
In terms of on-screen promotion using our Pro Digital Signage, I'd recommend between one and six promotions uploaded at a time. This ensures that your customers will see every promotion you're running at least once, but hopefully much more than that.
What's the one key takeaway that you'd like laundromat owners to remember from this interview?
We're now in more than 10,000 businesses worldwide, including some of the biggest brand-name companies on the planet. Our service simply works. Every laundromat owner is looking for ways to improve his or her business, whether that's the customer experience or the bottom line. We can help with both, while also introducing an exciting new energy to your store by improving the quality of the content on your televisions.
[Editor's Note: If you'd like to receive Atmosphere TV for a single laundromat, visit: https://atmosphere.tv/partner/coin-laundry. For multi-store owners or those with additional questions, email Mike.Kelly@Atmosphere.tv, or call (908) 433-9243.]