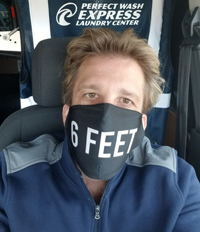 Many of us got into the laundromat business due to its simple nature and consistent characteristics. For most people, doing their laundry is a weekly demand. For all, it's a basic necessity – not a luxury. And, for store owners, this provides a smooth and reliable revenue stream.
Now, for the very same reasons, laundromats are being considered "essential" businesses. People need clean bedding, clean towels and clean underwear. And, now more than ever, we're needed as front-liners to provide this normally taken-for-granted weapon in the battle against COVID-19.
Yes, most customers are stressed, and many are staying home. At my laundry, we've experienced a 25 percent dip in self-service and drop-off business, and lost our commercial route. However, unlike that nice dinner out on a Saturday night, which is gone forever, laundry is still waiting somewhere to be washed. It's coming – and we need to be prepared for it.
I often boast about having the "best team in the country." And, true to form, my team has stepped up and stomped on that front line! They are all incredibly grateful, not just to be working, but to be doing the work our community values like never before. They hear sighs of relief over the phone when they inform customers we are still open. And, several times a day in the store, they hear, "Thank you so much for being here." I've watched my team go from being happy to be there, to feeling like they need to be there.
Of course, none of them are forced to come in. But I have experienced the greatest sense of pride to have this group of amazing people surrounding me and our customers, and doing it for the right reasons. I've told them all: "We are in a situation that we may never experience again in our lifetimes, God willing. Savor it. When your kids or grandkids ask you about this, you get to tell them you were there."
Many of us owners have found support at online forums and social media pages – helping each other through this, sharing policies, reassuring each other, or just giving tough love. And, believe me, it means a lot to all of us that we are in it together.
As many have done, we've implemented maximum customer occupancy in our store. We've encouraged customers to wait in their cars or outside, and to fold at home. We've turned off the card reader to our restroom, and an attendant has the key to regulate usage. But our cleaning hasn't changed so much as it has just intensified. We've started frequently disinfecting all common surfaces and doing so in front of the customers. This is as much about perception of sanitation as it is about actual cleanliness – you must have both.
In fact, everyone in my laundromat is probably safer there right now than in most other public places, or maybe even in some of their own homes. But I believe this has just been a warmup.
Things will change once the "all clear" is sounded and everyone floods back out into the streets. Whenever that may be – later this month or sometime this summer – it definitely won't be before this virus is completely eradicated… just slowed.
This is when social distancing policies, max head counts and disinfecting will be most crucial. As such, we've planned to keep all of our safety policies in place throughout the summer at a minimum to assure the well-being of our customers, as well as the greatest staff in the country.
Lastly, how will any business survive? One word: C-A-S-H!
If you have enough cash to get you through a month or more of expenses, you'll probably be fine, even without government assistance. This philosophy was drilled into my head by my parents. I'm truly blown away by how many businesses and households have no cash on hand. It's not a luxury for the rich, it's a discipline for all. If you do right by your balance sheet, you can seamlessly do right by your employees, who in turn will do right by your customers. But any business running short on cash should be out there finding it… now! Get it now, and figure it out later.
Good luck and stay safe! God bless you all – and God bless this country!