Business is Hopping: An Exclusive Chat with Neil Polifka, Vice President of Marketing and Store Development for The Blue Kangaroo Chain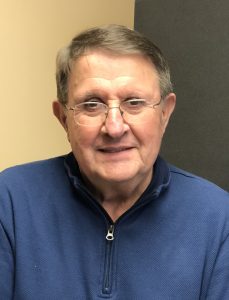 Whit Hughes established the Hughes Equipment Co. in 1958. He was one of the industry's earliest coin laundry distributors. And, for more than 30 years, Hughes Equipment built and sold nearly 500 self-service laundries to mom-and-pop investors throughout Chicago and neighboring markets. These laundries in the 1960s and '70s were originally branded under the name Quick Wash, and then later as Family Pride Laundries, with many of them also including drycleaning operations.
In 1987, Whit's son, Gordon, took the reins of the company after graduating from Northwestern University with an MBA and completing a six-year stint as a financial advisor for the investment firm of Smith Barney.
In 1989, Gordon decided to take the company in a different direction – leaving the distribution business, in favor of building large-format company-owned Blue Kangaroo vended laundries in select locations throughout the Chicago area, the Milwaukee market and in northwest Indiana. To help with this company overhaul, Neil Polifka – a former Hughes Equipment salesperson – was rehired by the company to oversee the Blue Kangaroo Division, for the express purpose of seeking laundromat locations and building stores.
In addition to his work with Hughes/Blue Kangaroo, Polifka – a graduate of Minnesota State University-Moorhead – also has held past positions with Speed Queen and UniMac over the years. Neil recently sat down with PlanetLaundry Editor Bob Nieman to discuss The Blue Kangaroo brand.
You're actually the person who came up with the name The Blue Kangaroo. How did that come about?
I just wanted something fun for customers and their children, something that they would remember. The name "The Blue Kangaroo" just came to me one night while I was driving home from work.
How many Blue Kangaroo stores do you currently operate?
We own and operate 32 Blue Kangaroo laundries in the greater Chicagoland, Wisconsin and Indiana markets – with our average store being about 4,600 square feet.
With 32 laundries, how is the company staffed?
Gordon Hughes is the president of The Blue Kangaroo, LLC, along with five other company groups. I manage The Blue Kangaroo Division, which has four district managers, each with responsibility for about eight laundries.
Your latest laundromat is located in Stickney, Ill. How was that location discovered and developed?
I identified the neighborhood as being in need of a large store, based on area competition and the density of population. So, I contacted the sellers of two parcels we were interested in, and I purchased them six months later. Next, we began the process of architectural and civil engineering, as well as hiring our general contractor. A year later, we began construction and subsequently the store opened in September 2017.
How do you find suitable locations?
It's all about location and demographics. The analytics of our process are based on a specific set of qualifying criteria that have to be met for consideration as a new location. Competitive stores also are rated and evaluated based on condition and proximity to our elected new site.
You mention "qualifying criteria" during the selection process. What are those criteria?
I look at the type of housing in an area – whether it's mainly two-flats, three-flats, 12-flats, single-family houses, multi-housing complexes, etc. I look at the perceived safety of the neighborhood. I look at the density of population, as well as the competition. I want a site with good ingress and egress. I want visibility from the street. I don't do traffic counts, but I do look at how busy a street is. I don't want something that's too busy, like a four-lane highway, but I don't want a side street either. Ideally, it should be on an arterial street that's not too busy.
What are some of the challenges of building a store from the ground up?
First, it would be rezoning, which is required for at least half of the locations in Chicago. Also, getting plans approved by municipalities can be challenging. It used to take just a few days, but now it can take six months or longer – due to today's added bureaucracy.
Can you share a bit about the construction and design of your stores?
Blue Kangaroo laundries are block buildings featuring face brick, attractive masonry design elements such as blue glazed accent brickwork, flat roofs with steel decking, automatic doors, and LED channel signage wherever possible. Typically, our stores exceed municipal code requirements.
In addition, all of our stores are professionally designed with a strong attention to layout, in order to maximize customer conveniences. The laundries include wide aisles, large folding tables, mini-marts and "Kids Kangaroo Korners."
Who is involved with your store construction?
We hire only Blue-Kangaroo-certified general contractors who have experience with the unique mechanicals and high standards integral to a Blue Kangaroo facility. We closely supervise the finished buildout to make sure it meets our requirements for superior workmanship.
In your opinion, what sets Blue Kangaroo apart from its competitors?
First and foremost, we enforce high standard of cleanliness and equipment maintenance. First impressions mean a lot, so our employees regularly attend training sessions with their district managers to assure strong first impression every time.
We also try to invest only in sites that can provide sufficient parking and strong curb appeal. Other amenities that help set our stores apart include our "Kids Kangaroo Korner" with children's television programming, as well as in-store mini-stores, which sell laundry products such as soap, softeners, bleach, cloth laundry bags, etc. We also offer drop-off laundry service, have large folding tables and washers with high-speed water extraction.
Personally, what keeps you passionate about this business today?
I love the laundry business. I've always enjoyed looking for locations and building successful stores. It gives me a great sense of accomplishment and satisfaction.
What does the future look like for the vended laundry business?
I see customers gravitating more toward today's nicer and larger stores, where they are offered more than ever in terms of amenities. You don't see many of these laundries going out of business. In fact, you just see more and more of them.
I think society today lends itself to people going to a laundromat to get their clothes done in just a couple of hours. With more and more dual-income families, many people simply don't have time to spend all day doing their laundry at home or in the basement of a three-flat.
I think vended laundries have a great future. We haven't reached the peak of this industry by any stretch of the imagination.
[Editor's Note: Don't miss the December issue of PlanetLaundry magazine for more on The Blue Kangaroo's new laundry location in Stickney, Ill.]