CLA COVID-19 Update
The Coin Laundry Association closely monitors updates regarding the coronavirus pandeminc. Click here to learn more and access resources.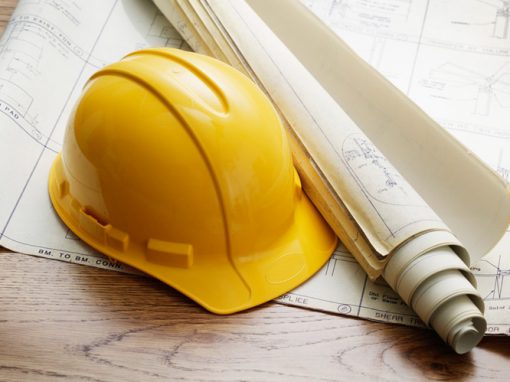 What to Consider When Constructing Your First Laundry Business The key to getting through the buildout or construction phase of your vended laundry project can be quite simple. Just hire an experienced, licensed general contractor who already has a couple of...
Three Tips to Help 'Future-Proof' Your Business' Site One of the biggest draws of the vended laundry industry is that it's "future-proof." In other words, unless there's some type of apocalypse that none of us see coming, people are going to need to do their laundry....
On June 19 – the day prior to the start of Clean Show 2019 – the LaundryCares Foundation will hold a free laundry day in the show's host city of New Orleans. This event, which will run from 9:00 a.m. to 1:00 p.m., will take place at two locations simultaneously within...
With less than one month until Clean 2019 kicks off at the Ernest N. Morial Convention Center in New Orleans, exhibit space is officially sold out. The textile care industry's premier exhibition will be held June 20-23. The 2019 edition of this event follows in the...
Continental Girbau West and Elite Business Investments recently co-hosted the Pre-Clean Preview Open House at CG West headquarters in Santa Fe Springs, Calif. The event drew Southern California vended laundry owners and investors, who took advantage of equipment...
Mountain Electronics is celebrating its 20th year of repairing electronic circuit boards for the commercial laundry industry. Despite the company's long and successful history, some fundamental business practices have remained the same through the years – including...
Eight Tips for Creating a Successful Transit Advertising Program One of my favorite ways to market vended laundries is via the mobile billboard. Mobile billboards – on buses, trucks, delivery vans, taxis and light rail trains – can advertise in places where stationary...
I do a lot of drop-off laundry at my store. In the past, you've suggested using a built detergent for heavily stained and/or oily items. I took your advice, and the wash-dry-fold garments are definitely getting clean – but some of them are coming out stiff and...
For two days this past March, the somewhat esoteric worlds of early-childhood education and library science intersected with the pragmatic, bottom-line business of laundromat ownership. Strange bedfellows, indeed. It's a partnership that, at first glance, maybe...
Here's How Linen Rental Can Be a Profitable Addition to Your Full-Service Laundry Business One of the easier and more profitable opportunities for vended laundry owners who service commercial accounts – which a number of operators, including myself, have ventured into...
BCC Payments, a provider of laundry payment systems, has hired Mark Sperry as vice president of route sales and distributor relations. Sperry has been brought on board to further empower the company's customer relationships and to provide efficient solutions to their...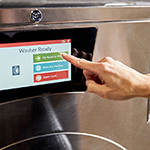 Untouchable ROI from Speed Queen®
Not all equipment upgrades are created equal. See what's possible with technology specifically made to elevate your store experience and move the needle in revenue.
Webinar: Why Choose the Laundry Business
Are you an entrepreneur looking for a new business venture? Join CLA for this panel discussion with expert laundry owners if you are considering opening a laundromat.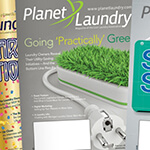 Subscribe to PlanetLaundry
Get America's #1 magazine for the self-service laundry industry delivered to your door or your email every month! Get your FREE subscription by clicking here.
America's #1 Resource for Vended Laundry News & Info
PlanetLaundry is the official publication of the Coin Laundry Association and is trusted by thousands to deliver the latest news and industry-specific topics for laundry owners and professionals.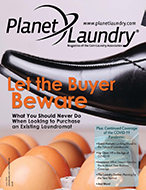 This Month's Issue
Let the Buyer Beware:

 

What You Should Never Do When Looking to Purchase an Existing Laundromat
Guest Feature:

 

Looking Ahead to the Future of Laundromats
Up Close:

 

HR in the Age of COVID-19
Insurance:

 

What Owners Need to Know About Their Business Coverage
The Laundry Doctor: Planning for the New Normal
And more…
THE LATEST ON LAUNDROMATS
Industry News
Western State Design, headquartered in Hayward, Calif., will host free service seminars for vended laundry operators. Attendees will learn best practices for optimal operation and maintenance of Dexter Laundry equipment. The training sessions – scheduled for 9 a.m. to...
Textile Care Allied Trades Association CEO David Cotter passed away on August 9 in Polk County, Fla. Since April 1993, Cotter, 64, served as the chief executive officer of TCATA, which is an international trade association representing the manufacturers and...
WASH Multifamily Laundry Systems, headquartered in El Segundo, Calif., has partnered with Hercules Corp., a third-generation laundry distributor, based in Hicksville, N.Y. According to WASH, the partnership will reinforce the company's market presence throughout the...
For the second consecutive year and fourth time overall, Huebsch has presented Gulf States Laundry Machinery Co., and its Houston and Atlanta branches, with the manufacturer's highest honor – the 2018 Industry Benchmark Award (formerly known as the Distributor of the...
Current and potential store owners, along with distributors and manufacturers, gathered in Beachwood, Ohio, on July 30 and in Bloomington, Minn., on July 31 to network, enjoy a nice meal and sharpen their business knowledge at two recent CLA Connect LIVE events. The...
FROM YOUR FAVORITE INDUSTRY EXPERTS
Columns
FROM THE PAGES AND STUDIO OF PLANETLAUNDRY
Highlights
No Results Found
The page you requested could not be found. Try refining your search, or use the navigation above to locate the post.
As we head into 2016, I'd like to reflect on some of the successes of 2015. In my mind, the greatest accomplishment of 2015 was the Coin Laundry Association's revitalization of its LaundryCares Foundation. As many of you know, LaundryCares has been around since 2006,...
The year is quickly coming to an end. The time seems to go faster and faster each year. As you reflect back on the goals you set out to accomplish this year, did you meet or exceed them? Did you do what you said you were going to do? It's never too late to set goals...
HAVE QUESTIONS? WE HAVE ANSWERS.
Contact Us