CLA COVID-19 Update
The Coin Laundry Association closely monitors updates regarding the coronavirus pandeminc. Click here to learn more and access resources.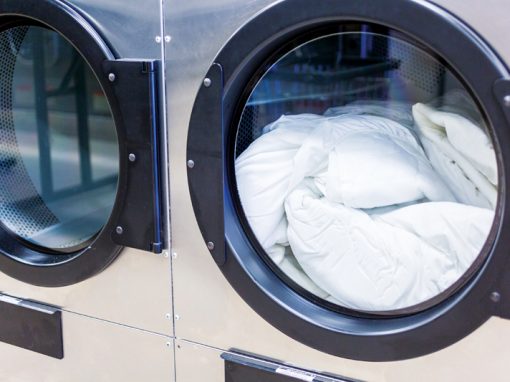 From Equipment Mix to Payment Structure, Here's How Laundry Owners are Fitting Dryers into The Overall Business Equation Despite major advances in high-speed washer extraction technology, a laundromat completely free of dryers is still nowhere on the horizon. At the...
A Linen Rental Service May be the Perfect Way to Keep Your Washers Turning – And Your Business Growing Traditionally, when we speak of doing commercial accounts work in a laundromat setting, we're most often talking about customer-owned goods. This is where the...
Laundry pickup-and-delivery service HappyNest has launched a new location in Nashville. "Nashville has quickly become one of the hottest spots in the country, and we wanted to be a part of the action," said HappyNest founder John MacKrell. "The Wash House has quickly...
LaundryCares Foundation Executive Vice President Dan Naumann recently visited Dexter Laundry's headquarters in Fairfield, Iowa, to present the manufacturer with an award recognizing the company as a signature sponsor of the charitable foundation and its mission....
I'm building a brand new modern laundromat in my town. It's almost completed, but I'm still at a loss as to what I should name my new business. We're nearly ready to install the store's signage, yet I'm still really stuck on a name. Can you give me any ideas? I would...
Proven Principles to Help You Craft More Impactful Advertising Advertising has one purpose and one purpose only – to affect someone's behavior. You want consumers to try something different. More specifically, you want them to switch from their current laundromat to...
Laundry pickup-and-delivery service HappyNest recently expanded into the Detroit market. "We are starting to build our brand in middle America, and Detroit is at the heart of it all," said HappyNest founder John MacKrell. "Aaron McLean is a great business owner, very...
What Marketing Methods are Right for Your Laundromat in 2020 and Beyond? Digital marketing is the future, right? As someone on the frontlines of digital marketing for the laundry industry, I certainly believe that to be true – but that doesn't mean you should change...
Aaxon Laundry Systems recently wrapped up its fifth year of participating in the Toys for Tots program in Florida's Miami-Dade region. In true holiday spirit, the Aaxon staff selflessly collected toys, which were then distributed on December 17 to children in need...
Long-time industry veteran Jim Rogers has announced his retirement. Rogers retires after 20 years as vice president of sales for Statewide Laundry Equipment – with locations in Miami, Orlando, Tampa, Jacksonville and Georgia – and after helping the company build up...
If Starting a Laundromat Business is on Your To-Do List for the New Year, Here's Your Game Plan 2020 has a nice ring to it, doesn't it? It's very symmetrical and pleasing to look at – and kinda fun to say, too. And, for some of you reading this, it may be a lucky...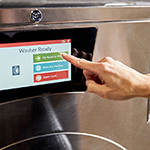 Untouchable ROI from Speed Queen®
Not all equipment upgrades are created equal. See what's possible with technology specifically made to elevate your store experience and move the needle in revenue.
Webinar: Why Choose the Laundry Business
Are you an entrepreneur looking for a new business venture? Join CLA for this panel discussion with expert laundry owners if you are considering opening a laundromat.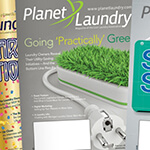 Subscribe to PlanetLaundry
Get America's #1 magazine for the self-service laundry industry delivered to your door or your email every month! Get your FREE subscription by clicking here.
America's #1 Resource for Vended Laundry News & Info
PlanetLaundry is the official publication of the Coin Laundry Association and is trusted by thousands to deliver the latest news and industry-specific topics for laundry owners and professionals.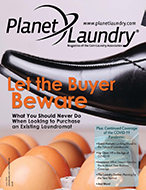 This Month's Issue
Let the Buyer Beware:

 

What You Should Never Do When Looking to Purchase an Existing Laundromat
Guest Feature:

 

Looking Ahead to the Future of Laundromats
Up Close:

 

HR in the Age of COVID-19
Insurance:

 

What Owners Need to Know About Their Business Coverage
The Laundry Doctor: Planning for the New Normal
And more…
THE LATEST ON LAUNDROMATS
Industry News
Laundry pickup-and-delivery service HappyNest recently expanded into Florida's Broward County market. "We have been very successful at finding the best partners in the Florida market, and Lon Gopie is no different," said HappyNest founder John MacKrell. "He has built...
The Coin Laundry Association has released "The Best of Wash with Wally," a printed collection of many of the highlights of PlanetLaundry magazine's popular and long-running garment care column, "Wash with Wally. The monthly Q&A column is written by laundromat...
A Video Invitation CLA President and CEO Brian Wallace gives a brief overview of what you can expect at the 2020 Excellence in Laundry Conference. Best of the Best The 2020 Excellence in Laundry Conference will bring together top laundry professionals,...
EVI Industries Inc., headquartered in Miami, has executed a definitive purchase agreement to acquire substantially all of the assets and certain liabilities of Commercial Laundry Equipment Company Inc., a distributor of vended and on-premises laundry products based in...
Commercial and industrial laundry equipment manufacturer Girbau has appointed Serge Joris as the company's new president. Joris' professional career spans more than 25 years of working internationally in key roles at companies in the technology and industry sectors....
FROM YOUR FAVORITE INDUSTRY EXPERTS
Columns
FROM THE PAGES AND STUDIO OF PLANETLAUNDRY
Highlights
No Results Found
The page you requested could not be found. Try refining your search, or use the navigation above to locate the post.
When my husband and I bought our first laundromat in June of 2016, I had been employed by Corporate America for more than 30 years. However, I was laid off just 21 days after that laundromat purchase.I had begun my professional career in 1983 as a designer for Bell...
Of all the factors impacting the success of a laundromat, site selection is right up there with having sufficient capital to launch and operate a new business. Both affect a business' chances of succeeding to a larger degree than almost any other factors.With that...
HAVE QUESTIONS? WE HAVE ANSWERS.
Contact Us