America's #1 Resource for Vended Laundry News & Info
PlanetLaundry is the official publication of the Coin Laundry Association and is trusted by thousands to deliver the latest news and industry-specific topics for laundry owners and professionals.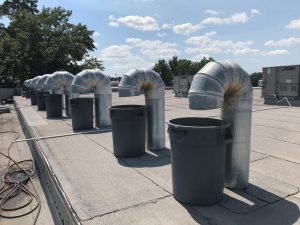 How to Keep Your Laundromat's HVAC Units Running as Smoothly and Efficiently as Possible Hopefully, by now any lingering heat from summer has passed and the cooler weather of fall is upon us. I say "hopefully," because the summer heat can create a number of challenges...
EVI Industries Inc., headquartered in Miami, has executed a definitive merger agreement to acquire commercial laundry distributor Yankee Equipment Systems Inc., based in Barrington, N.H., for $13.5 million, to be paid in a combination of cash and EVI common stock. The...
U.S. Senators Mike Enzi (R-Wyo.) and Maggie Hassan (D-N.H.) have introduced bipartisan legislation to allow the U.S. Mint to adjust the metal content of circulating coins in an effort to save taxpayer dollars. The Mint estimates that, by adjusting the metal content of...
Payment systems provider ESD recently teamed up with Cents, a business management software company. Through this partnership, laundromats that currently feature ESD's card reader equipment now have access to the Cents operating platform – with a no-cost delivery...
Star Distributing – headquartered in Nashville, Tenn. – has named John Herron vice president of sales. In his new position, Herron will be responsible for the company's sales efforts within the vended laundry and OPL segments. He will serve operators in Tennessee,...
Girbau – headquartered in Vic, Spain – has appointed Ramiro Gordillo as general manager of the company's subsidiary in Mexico. With this appointment, Girbau has strengthened its management team in Mexico to help drive its growth in the country and continue its...
The LaundryCares Foundation, Too Small to Fail Host 3rd Annual LaundryCares Literacy Summit In mid-September, more than 870 laundromat owners, librarians, educators and philanthropists came together for the 3rd annual LaundryCares Literacy Summit, a three-day virtual...
The Coin Laundry Association recently solicited store-owner input on the current coin shortage, in an effort to gauge the size and scope of its impact on the industry. Among those who responded to the association's survey, 65 percent of the laundry operators admitted...
A Step-by-Step Primer for Selling Your Laundromat – On Your Own After years of steady growth and with still ample time remaining on your lease, you've decided the time is right to sell your vended laundry business. Although it's tempting to simply hire a business...
Superior Laundry Equipment Co., headquartered in New York City, recently named Justin Tucci regional sales manager for the company's newly acquired territory of southern New Jersey, eastern Pennsylvania, Delaware and select northern counties of Maryland. Tucci boasts...
The Coin Laundry Association has teamed up with LIG Solutions – a division of Lighthouse Insurance Group – to offer CLA members, as well as their families and employees, access to exclusive healthcare insurance coverage. The offerings through this new agreement...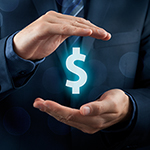 Financing Your First Laundromat
During this webinar, our panelists will share with you their experience in financing their first store, what they learned along the way and advice on how to get started.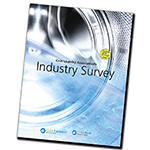 2020 Industry Survey
For the last 24 years, the CLA has enlisted the help of Readex Research to conduct a comprehensive laundry industry survey. Learn more…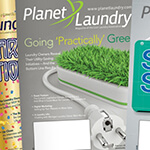 Subscribe to PlanetLaundry
Get America's #1 magazine for the self-service laundry industry delivered to your door or your email every month! Get your FREE subscription by clicking here.
CLA COVID-19 Update
The Coin Laundry Association closely monitors updates regarding the coronavirus pandeminc. Click here to learn more and access resources.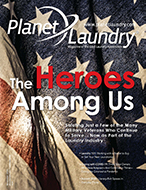 This Month's Issue
The Heroes Among Us:

 

Saluting Just a Few of the Many Military Veterans Who Continue to Serve…Now as Part of the Laundry Industry
Laundry 101:  Working with a Broker to Buy or Sell Your Next Laundry
Coping with COVID-19: Three Store Owners Who Have Adapted – And Continue to Thrive – During the Coronavirus Pandemic
Summit 2020:

 

Literacy-Rich Spaces in Everyday Places
And more…
THE LATEST ON LAUNDROMATS
Industry News
The Coin Laundry Association is celebrating a "Month of Thanks" in November to show its appreciation for its members and the industry. With November being the month we celebrate Thanksgiving and with the challenging year this has been, the CLA thought this month would...
Laundry pickup-and-delivery service HappyNest has expanded into the Miami market. "HappyNest has been very successful with our partners in Palm Beach and Broward counties, and we have found another great partner in Miami, which will allow for widespread marketing...
Girbau North America recently recognized more than a dozen employees who have accrued 10 to 25 years of service to the company. "The fact that our employees continue to find our company a favorable career choice lends itself to the idea that our work environment,...
Laundromat franchise WaveMAX Laundry recently announced its 100th development agreement. In addition, the company plans to have more than 50 WaveMAX facilities up and running by 2022. Recent agreements have been signed to bring the brand to New Orleans and Houston,...
Laundromat owners from six New England states recently attended the first hybrid Daniels Equipment Co. Inc. Profit Symposium: Next Steps Together. The event, which focused on laundry sanitization and disinfection, blended online presentations and panel discussions...
FROM YOUR FAVORITE INDUSTRY EXPERTS
Columns
FROM THE PAGES AND STUDIO OF PLANETLAUNDRY
Highlights
Three Types of Apps Any Business Can Use – Even Yours When you hear the word "app," you probably think about something on your phone that has a pretty specific use. Something like the Facebook app or your bank app. They're useful and handy – but, ultimately,...
Simple, Effective Tactics for Building Business in Today's Growing Metro Areas The data is clear. Pew Research recently shared that more people than ever are moving to urban areas and the diversity of our nation's cities is increasing dramatically. For business...
We are all in uncharted territory these days. No doubt, the news regarding the spread of coronavirus (COVID-19) changes by the day, the hour… and sometimes the minute. As unsettling as this situation may sometimes seem, be assured that the Coin Laundry Association is...
"Call me crazy, but I like to see other people happy and succeeding. Life is a journey, not a competition." I read that quote years ago on a billboard somewhere, and it just resonated with me. So, when I became a CLA Board member, I knew my purpose was to help others...
HAVE QUESTIONS? WE HAVE ANSWERS.
Contact Us