CLA COVID-19 Update
Coin Laundry Association (CLA) is closely monitoring coronavirus (COVID-19) updates from the Centers for Disease Control (CDC) and other appropriate national and local public health authorities.  CLA's top priority is the health and well-being of our members and their customers. Learn more and access resources by clicking the button below.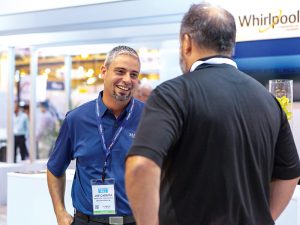 An Interview with Whirlpool Customer Relations Manager Joe Carrita Joe Carrita has spent more than 23 years in the commercial laundry industry, with a special focus on the on-premises laundry market and customer service. He recently discussed the latest in dryer care...
LaundryCares Foundation Executive Vice President Dan Naumann recently visited Dexter Laundry's headquarters in Fairfield, Iowa, to present the manufacturer with an award recognizing the company as a signature sponsor of the charitable foundation and its mission....
I'm building a brand new modern laundromat in my town. It's almost completed, but I'm still at a loss as to what I should name my new business. We're nearly ready to install the store's signage, yet I'm still really stuck on a name. Can you give me any ideas? I would...
Proven Principles to Help You Craft More Impactful Advertising Advertising has one purpose and one purpose only – to affect someone's behavior. You want consumers to try something different. More specifically, you want them to switch from their current laundromat to...
Laundry pickup-and-delivery service HappyNest recently expanded into the Detroit market. "We are starting to build our brand in middle America, and Detroit is at the heart of it all," said HappyNest founder John MacKrell. "Aaron McLean is a great business owner, very...
What Marketing Methods are Right for Your Laundromat in 2020 and Beyond? Digital marketing is the future, right? As someone on the frontlines of digital marketing for the laundry industry, I certainly believe that to be true – but that doesn't mean you should change...
Aaxon Laundry Systems recently wrapped up its fifth year of participating in the Toys for Tots program in Florida's Miami-Dade region. In true holiday spirit, the Aaxon staff selflessly collected toys, which were then distributed on December 17 to children in need...
Long-time industry veteran Jim Rogers has announced his retirement. Rogers retires after 20 years as vice president of sales for Statewide Laundry Equipment – with locations in Miami, Orlando, Tampa, Jacksonville and Georgia – and after helping the company build up...
If Starting a Laundromat Business is on Your To-Do List for the New Year, Here's Your Game Plan 2020 has a nice ring to it, doesn't it? It's very symmetrical and pleasing to look at – and kinda fun to say, too. And, for some of you reading this, it may be a lucky...
Utah Landlord Discovers New Success in the Laundromat Industry In 2006, the housing market was starting its quick descent, and rumors of a recession were beginning to rumble. It was during this time that Joe Jepsen decided to make a big move and buy enough properties...
Laundry pickup-and-delivery service HappyNest recently announced its expansion into the St. Louis market. "We have been interested in expansion into middle America since we launched HappyNest, and we feel Graylin Slater and his team will be a great partner for us...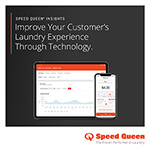 Leverage Technology for Profit Growth
Transform your store's customer experience using technology that can help you attract and retain a strong customer base and earn more revenue.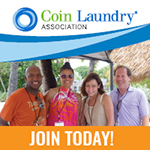 Join the Coin Laundry Assocation
Learn about the benefits of being a CLA member and becoming part of the largest trade association for the self-service laundry industry.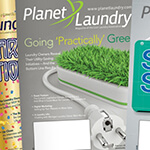 Subscribe to PlanetLaundry
Get America's #1 magazine for the self-service laundry industry delivered to your door or your email every month! Get your FREE subscription by clicking here.
America's #1 Resource for Vended Laundry News & Info
PlanetLaundry is the official publication of the Coin Laundry Association and is trusted by thousands to deliver the latest news and industry-specific topics for laundry owners and professionals.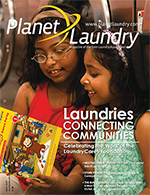 This Month's Issue
Laundries Connecting Communities: Celebrating the Work of the LaundryCares Foundation
Meeting Families Where They Are: The Powerful Role of Laundromats
Store Profile: New Texas Laundry Embraces Its Community from Day One
The Business Mind: Corporate Social Responsibility is More Than Just a Buzzword These Days – And
It's Not Just for Big Corporations Either
and more…
THE LATEST ON LAUNDROMATS
Industry News
EVI Industries Inc., headquartered in Miami, has executed a definitive purchase agreement to acquire substantially all of the assets and certain liabilities of Commercial Laundry Equipment Company Inc., a distributor of vended and on-premises laundry products based in...
Commercial and industrial laundry equipment manufacturer Girbau has appointed Serge Joris as the company's new president. Joris' professional career spans more than 25 years of working internationally in key roles at companies in the technology and industry sectors....
Western State Design has announced that it will host free service seminars in April. These events were created to help vended laundry operators learn best practices for the optimal operation and maintenance of their Dexter Laundry equipment. The training sessions will...
Every two years, the Coin Laundry Association hosts the Excellence in Laundry Conference, drawing hundreds of laundry industry professionals from across the country. The 5th biennial Excellence in Laundry Conference will bring world-class speakers and industry...
Current and potential store owners, as well as laundry equipment distributors and manufacturers, gathered in Hackensack, N.J., on February 5 to network, enjoy a nice meal and sharpen their business knowledge at the most recent CLA Connect LIVE event. The program...
FROM YOUR FAVORITE INDUSTRY EXPERTS
Columns
FROM THE PAGES AND STUDIO OF PLANETLAUNDRY
Highlights
These Four Growing Technologies and Promotional Methods Deserve Your Attention The marketing industry is relentless, and it likes to think big. Every year, new technologies and marketing methods emerge that seek to make it easier for businesses like yours win new...
For the grand opening of its Canadian flagship location, Lululemon – the popular yoga-inspired athletic apparel company – offered free merchandise to the first 30 people to run naked through its new retail outlet. As you can imagine, the media was all over this...
More meetings in more places for more people. This is the goal of the reinvented affiliate program and the new meeting concept that the Coin Laundry Association is excited to launch. In the May 2018 issue of PlanetLaundry, CLA President and CEO Brian Wallace wrote the...
HAVE QUESTIONS? WE HAVE ANSWERS.
Contact Us